STEAL TABLE >
When objects dissapear
SPONSORED IN PART BY GRANT FROM THE MIT COUNCIL FOR THE ARTS, 2005

Project advisor Professor Chris Csikszentmihályi [Computing Culture Group]
Technical consulting by Simon Schiessl [electronics and programming]

What are our relationships with objects placed at tables? Specifically, what happens when objects disappear? Has someone taken them? Or have they (the objects) gone away on their own? The act of disappearance can be interpreted in many ways, including stealing, collecting, borrowing, storing or even cleaning.
This table 'senses' the weight of objects placed on its top. It 'prefers' small and light objects (from several grams to maximum two kilograms / 4.4 lbs). A pair of black plexi planks rotate and the object(s) slides into the 'belly' of the table (a cloth suspended on the bottom of the table that captures the objects. A zipper on the cloth releases the captured objects).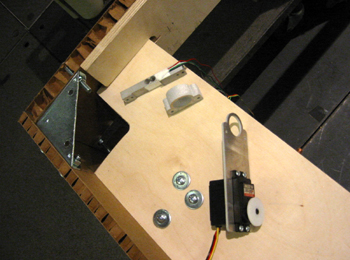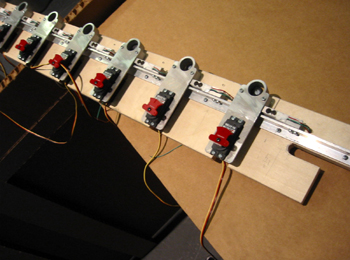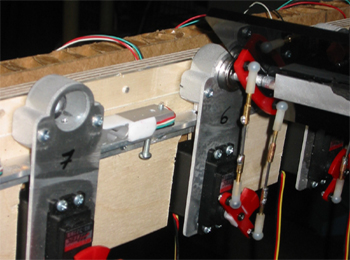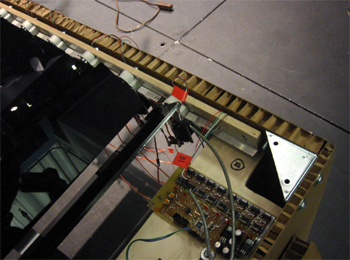 The table is made from:
- honeycomb cardboard, 1/2" and 1" (charrette.com)
- metal angles (several types of "corner braces" purchased at Home Depot)
- ball-bearings (VXB.com part #R4AZZ)
- threaded ball linkages and rods (servoCity.com part #GPMQ3841)
- 1/2" aluminum L-angles and 1/4" round bars (North Coast Metal)
- custom-made 1/8" and 1/2" aluminim parts cut on a water-jet cutter
- custom-made plexiglass parts (J. Freeman, Inc. Plastics from Dorchester MA) cut on a laser cutter.
The longer sides of the table are reinforced with 1/2" Baltic birch plywood. The servo motors and load cells are mounted with custom-made aluminum elements onto the plywood.
The electronics consist of:
- 8 servo motors (servoCity.com, Hitec Servo HS-322HD)
- 16 load cells (3kg weight sensors from Xiamen ELANE Electronics) with 16 amplifiers
- 'cockroach' circuit with ATMEL32 microcontroller (designed by Simon Schiessl) that controls the servos and interfaces with the weight sensors
- the circut boards were printed at Alberta Printed Circuits.
Additional information available per request.